Why should you buy a high-quality gabion box from a well-known gabion box distributor?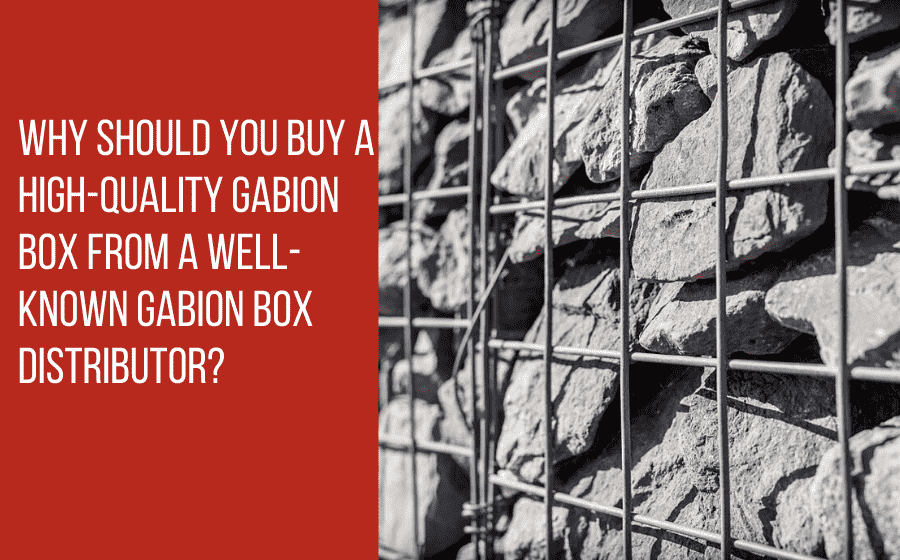 A gabion box is a welded wire box or cage filled with soil, sand, concrete, or stone. Therefore, the gabion is a partly flexible construction block employed to prevent erosion in construction and keep the slope stable. The structure of different gabions is done and employed in various engineering constructions.
Sometimes, live roots might be placed between gabion boxes, enhancing their stability and durability. Wire mesh is employed to make gabion box cages. The formation of this wire mesh is done by weaving or welding plastic-coated or galvanized wire. Gabion boxes are inexpensive, flexible boxes that unskilled workers can construct easily.
In general, gabion boxes are tiny units that can be joined together for forming massive finished projects.
Used For Controlling Erosion
A very important use of gabion box is as stream bank or river or bed stabilizers. For this kind of use, other formations of gabions are quite valuable. Gabion sacks, gabion baskets, and mattresses have anti-erosion abilities. Gabion mattresses are inclined to be flatter, and they protect river beds from erosion, whereas simply gabion sack is a smaller basket.
The conventional use of a gabion box alongside the bank of a river is to keep the edges of the river and slopes stable or to secure artificial constructions near the edge of the water.
Uses of Gabion Boxes
Nowadays, you will find that many gabion boxes are being used to construct indoor and outdoor walls. In New Zealand, gabion boxes are filled with stones to build a flawlessly suitable wall inside a bar and a garage's exterior. In the capital city of the US state of Texas, Austin gabion boxes are employed for forming a two-floor home's exterior.
Gabion boxes are also used for building highways, landscaping areas, dams, and retaining wall structures. They also play a crucial role in preventing floods as they are employed as floodwalls. In addition to that, gabion boxes can also be used as noise barriers.
Benefits of employing a gabion box
With the use of gabion boxes, you can achieve many environmental goals. A minimal amount of concrete is used in constructing buildings by using a gabion box which helps in reducing carbon dioxide emissions.
Aesthetically, the indigenous stones used are more suitable for the environment of the buildings using gabion boxes. Using those stones helps cut down the construction and transportation costs. For further enhancing the ecological impact, over time, the box's interstitial areas might help plants grow and make the building look more natural.
Gabion boxes play a vital role in construction. Not only do gabion boxes make sure that the land does not get eroded, they help in constructing retaining walls, dams, and huge projects such as multiple floor homes and office buildings.
Due to their capability to be connected and compact size, gabion boxes are highly flexible and can be successfully used in different ways. And due to their longevity of five decades, they can be used to build both permanent and temporary structures.
The permeability of Gabion boxes is another benefit of using gabion boxes as gabion boxes naturally drain water. They eliminate the need to install drainage pipes and, in this manner, they also cut down costs. Most of the Gabion boxes are highly durable as they pose high resistance to environmental corrosion because of their wire's well-bonded zinc covering.
The information above highlights the uses and benefits of gabion boxes and tells you that if you want to engage in a cost-efficient and environment-friendly construction activity, you must shop high quality gabion boxes from a well-known gabion box distributor.