All You Need To Know About Carbon Steel Wire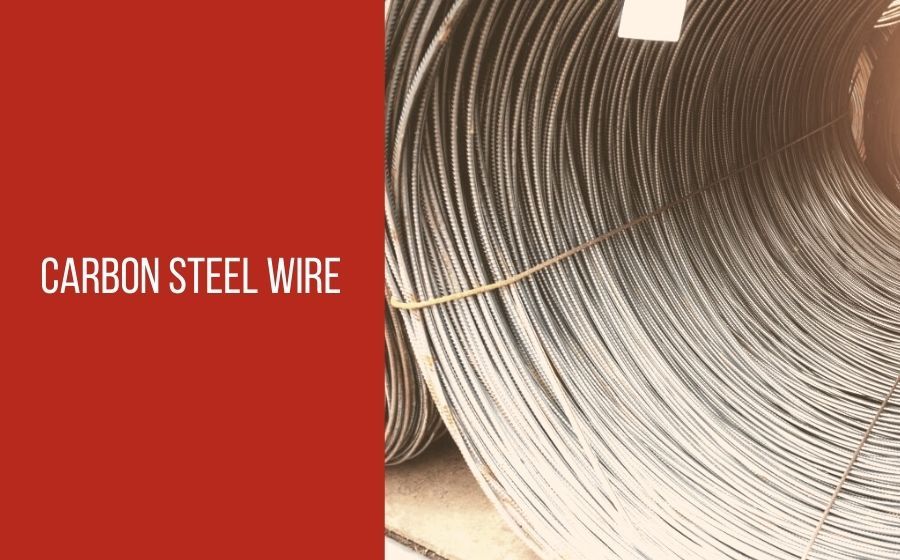 How can carbon steel wires be used?
Carbon steel is a compound of iron and carbon in which the carbon content's weight is 2.1 percent. The rise in the percentage of carbon will increase the strength and hardness of steel, but it will make carbonless ductile. Carbon steel has decent power and hardness properties, and it is cheaper than the rest of steel. The standards of carbon steel are named like that because the carbon level in their base metal primarily determines their properties. Some kinds of steel rope wires are below.
Bright low carbon primary steel wire
Bright low carbon primary steel wire is a decent general-purpose standard that people can most often see in daily life, like in paper clips, store displays, appliance shelving, and coat hangers. It flattens and bends well, easily forms shapes, and is appropriate for welding. The bright low carbon steel wire's carbon content ranges from 0.06 percent to 0.20 percent. Still, the prevalent available standards of bright low carbon primary steel wire are 1008, which contains 0.08 percent carbon, and 1018 which holds 0.18 percent carbon. Bright low carbon primary steel wire is very commonly furnished in hard-drawn or as-drawn condition, but colorful annealed carbon steel wires are offered for sale on special request.
High carbon spring temper steel wires
High carbon steel is employed to manufacture spring temper carbon steel wires. Commonly offered spring steel wire grades are not equipped with definite chemistry designations like 1080 or 1065, widely used with the rest of the kinds of high carbon steel items. Instead, they are made and specified according to a performance criterion for manufacturing coiled springs. This performance criterion permits carbon content but has extra factors like coiling/bending tests and tensile strength that manufacturers must fulfill inside specified ranges. Some of the primary types of high carbon spring temper steel rope wires are below.
Hard drawn spring steel and Music spring quality steel wires
Hard-drawn spring steel wire is a cost-efficient option for several general-purpose uses. Its carbon content falls in the range from 0.45 percent to 0.85 percent. Hard-drawn spring steel wire does not usually undergo a heat treatment following drawing. It shows moderate toughness and high strength. It is offered in an extensive series of diameters and is made to conform to ASTM A764 for roused finishes and ASTM A227 for uncovered finishes. Music spring quality steel wire, also known as piano wire. Its content of the carbon ranges falls within the range from 0.70 percent to one percent. The music wire undergoes heat treatment after getting drawn to stress-relieving and toughening the carbon steel wire while retaining high tensile strength. Music wire is made in a manner that conforms to ASTM A228. It is offered for sale in a range of galvanized, tin-coated, phosphate, and bright finishings.
Uses of carbon steel wire
It plays a significant and helpful role in the military, automobile, and construction applications. High carbon spring steel wires can be utilized to manufacture springs with increased flexibility and tensile strength. They mainly help manufacture furniture, computerized numerical control machine tools, and automobiles. Therefore, if you are a manufacturer of cars, computerized numerical control machines, or furniture, then it would be best to get high-quality carbon steel wire in bulk to manufacture automobiles, computerized numerical control machine tools, or furniture to achieve your business objectives. Apart from springs, high carbon spring steel wires can also help in manufacturing mining mesh and high carbon steel ropes. Modernized technology employs high carbon steel wires to manufacture high carbon steel ropes. After getting manufactured, high carbon steel ropes help in quarrying, mining, construction, and the rest of heavy use industries. High carbon steel ropes are also known as heavy-duty steel ropes. With highly advanced technology, these wires help make mining mesh. This mining mesh filters and screens in quarry and mining sectors. Due to its high tensile strength and high friction resistance, mining mesh supports a significant load and is employed in high wear rate working conditions. Doing so helps mining businesses achieve their business objectives in the best possible manner.